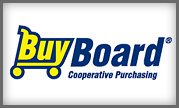 BuyBoard
The BuyBoard National Purchasing Cooperative is an online purchasing cooperative that saves members time and money by providing access to thousands of items that have been through a competitive procurement process.
BuyBoard Contracts:
Contract # 597-19
About BuyBoard Online Purchasing Cooperative
BuyBoard was designed to comply with state laws requiring government entities to make purchases from approved vendors who have gone through competitive bidding. Using BuyBoard, districts have the advantage of leveraging the cooperative's suppliers and discounts awarded and combines it with the ease of online, web-based shopping and ordering.
BuyBoard contracts are available nationwide to qualified members at no cost. Members are primarily local government entities, special districts, political subdivisions and qualifying non-profit corporations.
EKA offers comprehensive coverage of government agency contracting and qualifies as a small business preference. EKA provides the customer service, dealer and factory coordination in the order process, performs contract billing and accounts receivables with the customer and factory, and maintains contract administration and order fee payments under the BuyBoard government cooperative program.
BuyBoard Members Include:
School Districts
Cities, Municipalities
Towns
Villages
Counties, County Governments, County Administrations
Community Colleges and Schools
Public Universities
Other Local Government Agencies
Not-for-Profit Corporations [501 (c)(3)] providing government functions and services. Special requirements apply.
Why Members Use BuyBoard
To abide by competitive procurement laws — customers purchase from approved BuyBoard vendors knowing those vendors have already gone through the competitive procurement process.
To eliminate bidding — using BuyBoard lets customers eliminate the time and cost associated with placing bids.
To save time — Customers can purchase a vast array of products all in one location.
To save money — BuyBoard vendors offer savings to customers who purchase products through BuyBoard coupled with internal administrative savings. BuyBoard is a very cost effective procurement vehicle.
How Members Use BuyBoard
Members browse BuyBoard to locate products and to obtain price infomlation. Members use that information to compare prices and to verify that they are getting the best deal through the BuyBoard.
Members use BuyBoard's RFQ feature to request quotes from vendors.
Members take advantage of the other features of BuyBoard to keep track of purchases made through the BuyBoard for bid compliance. audit and pricing.
The operational backbone of BuyBoard is a web-based system developed and perfected by the Texas Association of School Boards, a system that has been highly successful in serving school districts and municipalities in Texas for more than a decade. with proven reliability and integrity.